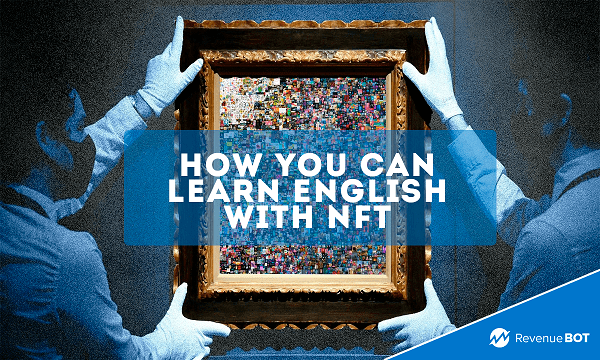 It has never been more important to learn English. We need it everywhere. Unfortunately, hardly anyone wants to spend a lot of time on it. 
The idea behind the Let Me Speak app is simple – just learn English and earn crypto as a reward. 
To put it simply, users can mix business with pleasure, earning money and learning a foreign language simultaneously.
What Let Me Speak exactly is
Let Me Speak is a blockchain app meant for mastering the English language. If you complete the tasks, it rewards you with cryptocurrency, rather than virtual points, as in other similar apps. Thus, the user benefits not only from education, but also from income. This concept is commonly referred to as Learn to Earn. 
Let Me Speak developers believe that the fundamental problem of online education is a lack of motivation. They introduced daily rewards in the form of cryptocurrency earnings into the app in order to keep people from quitting their studies. Self-testing revealed that after 30 days, over 60% of users were still learning English in Let Me Speak. That's five times more than those surveyed who took the previous course from this team with the common payment model.
The student is actually paid to learn English which is why he or she does not drop out. Earnings are an excellent motivator to practice more regularly. Meanwhile, for Let Me Speak, it's an opportunity to increase engagement with their educational products.
The public release of Let Me Speak took place in early 2022. This app is available in a web version and for iOS, but is coming in July for Android devices as well. During its first four months it was downloaded more than 1 million times in the App Store.
Learning modes
The learning process is divided into three phases: History, Words, and Grammar.
History. In this mode, the virtual character finds himself in New York City and has to go through real life situations. For example, you can meet the girl in line at the airport. This educational content uses speech recognition technology and is focused on conversational practice.
Words. In this section you will learn new vocabulary. There are over 4,000 of the most common English words broken down by different topics. Each new word is followed by its translation and illustration.
Grammar. This is where learners master English grammar with the help of interactive games. For example, you need to make the right sentences to deliver the pizza on time. And before you begin, you are introduced to a brief description of the rules.
We talked to an expert about how effective these exercises are and whether they are helpful in learning the language. The spoken English tutor, Daniella Tuaeva, pointed out the shortcomings of the Let Me Speak app:
By the end of the mini-test, the application fails to adjust to the needs of specific users. Say, you have an Advanced level of proficiency, but you still end up learning grammar from scratch and a mixed vocabulary of varying levels of difficulty.

The grammar itself does not match the above categories. For example, elementary-level grammar ends up in the Intermediate level.

When it comes to vocabulary, it does not always match the grammatical level either.
It is hardly possible to master the English language with Let Me Speak alone. You only get to learn the basic phrases and apply them to life.
Such apps are suitable for people who have already studied Elementary English at school, who are familiar with basic reading skills and have a good grasp of simple vocabulary. Let Me Speak is designed to teach them vocabulary and practice it in a fun and interactive way, enriching them with some basic grammar and helping them understand new grammar without getting into linguistic intricacies.
On the whole, you can benefit from Let Me Speak in some way. However, you should not expect to make substantial progress in learning the language. What is crucial is that such training is free of charge and may even give you the opportunity to earn money.
How to earn money at Let Me Speak
It is possible to replace a regular character with an NFT in Let Me Speak. There you can earn LSTAR tokens instead of virtual points. Such mechanisms should be an incentive for users to devote more time to their learning.
NFT characters are sold in the Let Me Speak marketplace. Prices range from $80 to $16,000, depending on rarity and level.
The exact amount of rewards for learning with LSTAR tokens depends on 3 factors
The time the user devotes to learning;

The characteristics of an NFT character, such as rarity, level, talent, and others;

The number of Active NFT characters.
At an average LSTAR token price of $0.03, the developers of Let Me Speak promise earnings of $1 to $26 per day. Over time, as the number of users will increase, the profitability will decrease.
The Let Me Speak earning system is designed in such a way as to boost user motivation and stabilize the economy of the app. That's why there are mechanics like Energy, Visa, Invites and others. Let us consider only the three most important:
Energy. There are 100 units of Energy for each NFT character, which are spent on learning. Over the next 24 hours, it is fully restored.

Visa. This is the number of days an NFT character can learn and earn. When the Visa expires, you will need to either renew it or buy a new character.

Invites. It is the process of creating new NFT characters from existing ones. This feature makes it possible to get one new NFT with with better characteristics from two old ones.
We asked the Maff Big Team to give feedback on the Let Me Speak app in their Telegram group chat. Most of the community members compared the app to other so-called "Something-to-Earn" projects such as Axie Infinity and STEPN. Many people have also noticed the resemblance to pyramid schemes.
Conclusion
With the Let Me Speak app, you have a chance to learn some new English words and put them into practice as you go along. You cannot master English at a higher level.
It is completely free but those who soon run out of motivation can buy an NFT character. Doing so will bring in up to $26 a day and thus encourage you to invest more time in your self-education.
For crypto market traders, RevenueBot offers an automated trading interface. The user can trade on top crypto exchanges, including: Binance, Bittrex, FTX, OKX and others. RevenueBot provides traders with the opportunity to create trading bots that allow them to receive stable passive earnings. The main advantages of the service include the following:
Fees for the service are charged only after the first profit, no prepayment required;

RevenueBot's native marketplace is a great way to buy a ready-made bot as well as to sell a lucrative configuration; 

The RevenueBot referral program enables you to earn without having to do any trading by yourself;

RevenueBot uses a Dollar Cost Averaging (DCA) strategy, through which you can successfully trade and make profits over the long run;

Automatic switching of trading pairs makes it possible to benefit from trading at any time. The bot itself will switch to another trading pair if the main one will not be able to do the earning. 
You can learn more about the features of the platform on the RevenueBot official website.