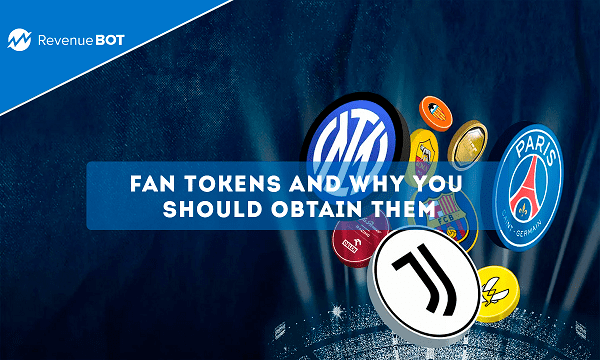 Fan tokens are an NFT (non-fungible token). Back in 2019, fan tokens were launched by major soccer clubs in Europe, while this year, NFT ticket sales for sports events began. However, most people who are not familiar with the crypto industry have no understanding of what fan tokens are and what they are for.
What exactly fan tokens are
Fan token holders may be eligible for some privileges simply for being an NFT holder. For example, you can participate in votes for club decisions, merchandise designs, awards, and other ways to interact with sports teams and their representatives. Typically, this is the kind of token aimed at sports fans and admirers of one or another celebrity.
Fan tokens are divided into two types. The first type is tokens allowing their holders to engage in the daily life of their beloved sports clubs. Say, by voting for the new uniform color or design. Likewise, they can get early access to ticket sales for sporting events. Such tokens make fans evolve from spectators into an enthusiastic community empowered to make a difference in the life of their favorite club.
The second type are collectible NFTs with a picture of either a player or a highlight video of some game moments. In fact, it's the digital equivalent of a real-life collectible card. A good example of such a fan token is the NBA Top Shot.
What NBA Top Shot is all about is that the collector can keep highlights of basketball plays. In other words, the NFT in this very project is a card that features a short video clip from three different angles of some striking move made by a basketball player.
This can be, for example, when a player manages to score in a nice way or successfully keep the goal. The shots are about 2-3 seconds long. You can see the card names corresponding to the name of the basketball player in the video. In NBA Top Shot, these cards are called Moments.
The purpose of fan tokens and the ways they will reshape the sports industry
NFTs can revolutionize the sportdom by bringing offline activities into the online world. In the past, supporters used to gather sports cards, sign jerseys and soccer balls, as well as trade printed pictures of their favorite players. As the world becomes more digitized, new ways for aspiring fans to interact with their preferred teams and players using blockchain technology will emerge.
Fan commitment ranges all the way from watching or attending live matches to buying merchandise or participating in autograph signing session. All of this gives sports teams and leagues the chance to earn extra income.
Sports leagues spotted the value of fan involvement so they created platforms where it is possible for fans to buy, own and exchange tokenized merchandise. While the National Soccer League and National Hockey League are developing their own NFT platforms, Major League Baseball has already rolled out its NFT trading platform.
Fan engagement platforms bring the collectibility into the Web3 space. NFTs have the potential to substantially impact fans' feelings about their favorite teams – making it easier for them to follow the sportspersons they care about. As a result, sports organizations benefit from the power to use tokens to their advantage. 
Note, however, that this is where fans engagement is the priority, instead of trying to make a quick buck by selling tokens. By focusing on fan engagement, platforms can gain a wider audience. This will happen thanks to the fact that fans might actually introduce their friends to the platforms. 
It would also improve user retention. This is because fans will use these platforms for personal enjoyment, rather than trying to make money by exchanging the tokens they bought. 
Where to buy fan tokens
The launch of fan tokens is followed by partnerships between crypto-related platforms and clubs. Among the last in line for the launch of such a token, for example, was the Portuguese soccer team Porto – it was sponsored by the Binance exchange. Something similar happened to the Italian club Lazio.
In July 2022, Binance announced the launch of NFT ticket sales for Lazio FC matches for the 2022/23 soccer season. Supporters can buy single or NFT tickets through the Binance Fan Token service. The advantages of a season ticket:
Exclusive Stadio Olimpico access to home games during the 2022/23 season; 

10% Lazio store discount on any item;

20% ticket discount on Europa League matches;
These tokens will be a solution to the challenges of the traditional ticketing system. With NFT, it will be possible to avoid reselling tickets, counterfeiting them, as well as to prevent loss or damage of tickets.
Conclusion
Fan tokens offer their holders access to a number of perks. These include voting for club decisions, merchandise design, awards, and other opportunities to interact with sports teams and its representatives. 
Such tokens help solve the troubles of the old ticket distribution system. With NFT, it will be possible to avoid reselling tickets, counterfeiting them, as well as to prevent loss or damage of tickets.
For crypto market traders, RevenueBot offers an automated trading interface. The user can trade on top crypto exchanges, including: Binance, Bittrex, FTX, OKX and others. RevenueBot provides traders with the opportunity to create trading bots that allow them to receive stable passive earnings. The main advantages of the service include the following:
Fees for the service are charged only after the first profit, no prepayment required;

RevenueBot's native marketplace is a great way to buy a ready-made bot as well as to sell a lucrative configuration; 

The RevenueBot referral program enables you to earn without having to do any trading by yourself;

RevenueBot uses a Dollar Cost Averaging (DCA) strategy, through which you can successfully trade and make profits over the long run;

Automatic switching of trading pairs makes it possible to benefit from trading at any time. The bot itself will switch to another trading pair if the main one will not be able to do the earning. 
You can learn more about the features of the platform on the RevenueBot official website.