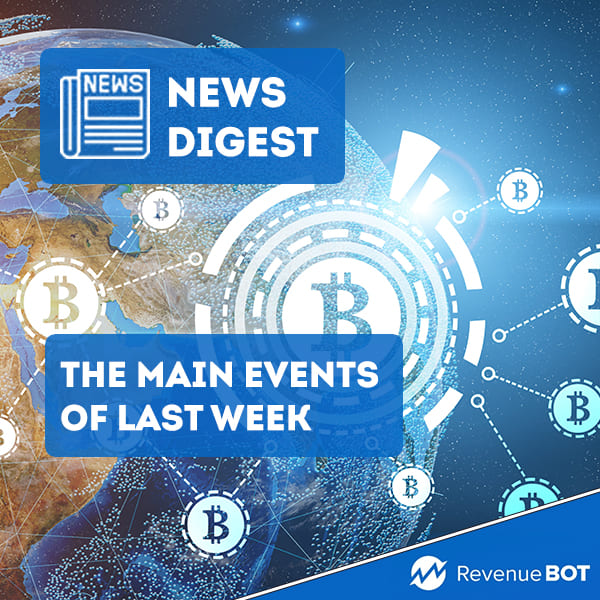 Friday, 16th of September. As the week comes to an end, we can focus on the highlights of the crypto industry.
Tether launches USDT stablecoin on the NEAR network
Tether Operations Limited, USDT issuer, released a stablecoin on the NEAR network. 
NEAR Protocol supports open-source smart contracts. It has high throughput and is designed for creating dApps.
In July, the aggregate number of projects within the network exceeded 700 entries. Between 300,000 and 400,000 transactions are made daily on the blockchain, according to the NEAR Foundation.
"We support initiatives that can increase the stability of the DeFi ecosystem and help us accelerate the mass adoption of Web3," NEAR Foundation CEO Marieke Flaman claimed.
Tether stablecoin is also live on Algorand, Avalanche, Simple Ledger Protocol Bitcoin Cash, Ethereum, EOS, Kusama, Liquid Network, Polygon, Tezos, Tron, Solana and Statemine.
Changpeng Zhao praises EU's MiCA crypto assets regulation
The Crypto Assets (MiCA) regulation approved by the EU authorities is "fantastic", but "a little bit strict" on stablecoins. Changpeng "CZ" Zhao, head of Binance, provided this opinion.
The document outlines rules that apply to issuers of unsecured cryptoassets, stablecoins, as well as to trading and custodial platforms.
"The drafts are not adopting USD-based stablecoins, which have 75% of the liquidity in the market," Zhao said at Binance Blockchain Week in Paris.
Nevertheless, he appreciated the work of the EU officials. CZ expects the document to be viewed as "the global standard" in crypto regulation for other jurisdictions to copy.
Binance CEO also said Paris is "probably … the financial hub for crypto in Europe and the larger part of the world." He expects the industry in France to "explode" in the next five years, which will be helped by lower taxes and much easier employment laws.
In 2017, French President Emmanuel Macron introduced a reform designed to cut the number of unemployed people. It simplified the relational system in the labor market. Zhao said that Binance has hired 150 people for its operations in Paris with plans to hire "a couple of hundred more" employees by the end of the 2022.
In April, the exchange announced a partnership with French startup incubator Station F and a €100 million investment to expand its presence in Europe.
Binance received its digital asset provider license from AMF a month later, as well as approval to store and trade crypto.
S.Korean man sentenced for sexual abuse in metaverse
A 30-year-old South Korean resident received four years in prison for sexually assaulting minors in an unnamed "popular" metaverse. This is reported in the local media.
According to the report, the defendant signed up for one of Korea's VR-platforms. Between December 2021 and March 2022, he communicated through his character to junior high and high school students. 
The man offered gifts to minors and in return he asked them to send nude photos. Besides, obscene correspondence was found on his computer. 
The defendant pleaded guilty. When imposing a sentence, the court considered that the materials of a sexual nature were not distributed and were not used for profit.
Apart from imprisonment, the suspect will undergo an 80-hour compulsory program of treatment against sexual deviations and will be barred for seven years from working in organizations that deal with children.
U.S. to create AI system capable of diagnosing diseases using your voice
American scientists will develop software with AI called Voice as a Biomarker of Health, designed to analyze patients' voices in order to diagnose and study diseases.
Twelve research institutes, led by the University of South Florida (USF), will confidentially compile a training database of people's voices. With the help of a dataset, they will train an AI system to be used by doctors in order to identify possible diseases and neurological disorders by analyzing a person's speech.
The software will be taught to identify five types of diseases:
voice disorders: (laryngeal cancers, vocal fold paralysis, benign laryngeal lesions);

neurological and neurodegenerative disorders (Alzheimer's, Parkinson's, stroke, ALS);

mood and psychiatric disorders (depression, schizophrenia, bipolar disorders);

respiratory disorders (pneumonia, COPD);

pediatric voice and speech disorders (speech and language delays, autism).
"Our team chose the five categories of diseases based on existing work in voice AI that has been published over the last 20 years," Yael Bensoussan, the project leader and assistant professor at USF's Department of Otolaryngology, explained in an interview with The Register.
As she says, voice is by far one of the easiest and cheapest biomarkers to study. Gathering such data has no physical risks to patients and may be conducted in low-resource settings, especially with current technology, Bensoussan added.