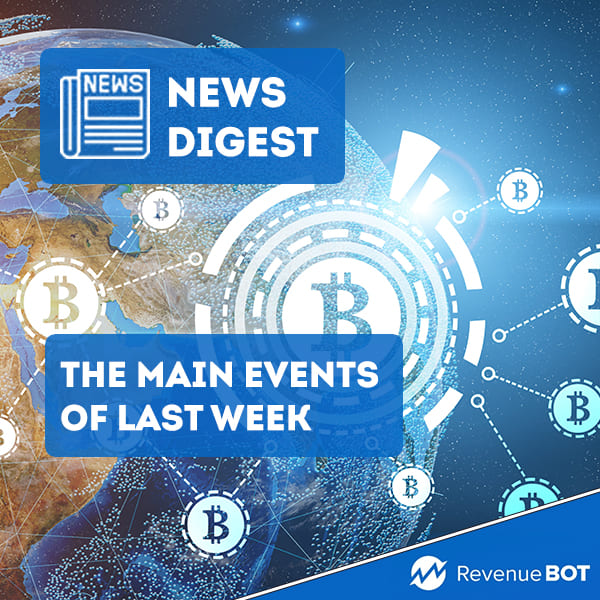 Friday, 23rd of September. As the week comes to an end, we can focus on the highlights of the crypto industry.
NY court orders stablecoin issuer Tether to prove backing of USDT
A court in New York obligated Tether Limited to provide financial documents to assess USDT stablecoin reserves as part of a possible market manipulation lawsuit.
In December 2021, Matthew Anderson and Shawn Dolifka filed a class action lawsuit blaming the issuer for misleading them about backing a "stablecoin". They invoked proceedings with the firm and its affiliate Bitfinex.
Ten months before this case was filed, the companies reached an agreement with the New York State Attorney General's Office in a matter involving financial transactions related to the loss of $850 million. Bitfinex and Tether agreed to settle for $18.5 million. 
The subsequent resolution of similar claims by the CFTC cost them $42.5 million.
Under the current process, the issuer must submit "general ledgers, balance sheets, income statements, cash-flow statements, and profit and loss statements" together with trading information.
U.S. judge in New York also requested details regarding Tether Limited's accounts on the Bitfinex, Poloniex and Bittrex cryptocurrency exchanges.
Company representatives described the injunction as "unduly burdensome." The court stated that it was necessary to "assess the backing of USDT with US dollars."
FTX to raise $1B at a valuation of $32B, media reports
FTX crypto exchange is seeking to raise $1 billion and confirm the valuation of its previous funding round of $32 billion, CNBC reported citing sources familiar with the matter.
However, the terms are not yet finalized, negotiations are still ongoing.
There have been rumors of similar FTX plans since July 2022.
FTX's revenue soared more than $1 billion through 2021. The figure was $270 million in the Q1 of 2022, according to the publication.
Sources say that to supplement January's $400 million round, a portion of the new capital will go toward new deals.
Sam Bankman-Fried, head of FTX, implied in an interview with CNBC that he is willing to spend "about a billion dollars" on crypto-related companies and projects.
Over the summer, affiliated businesses sent a similar amount of money to support the crypto industry. Prior to that, Bankman-Fried has promised to allocate "billions" for the purchase of shares in other companies.
Azuki NFT-collection creator to attract $30M, journalists found out
The Chiru Labs studio behind Azuki's NFT collection is about to close a $30 million Series A funding round at a $300 million and $400 million valuation. This is what The Block reports, referring to sources familiar with the matter.
Negotiations are nearing completion, but the final terms have not yet been agreed upon.
This Azuki collection has been released on the Ethereum blockchain and consists of 10,000 tokens. The cheapest Azukis are today worth 11.2 ETH (roughly $14,000), according to OpenSea data. The cumulative sales volume of the respective works on the marketplace reached 262,000 ETH (~$337.2 million).
Previously, the Doodles NFT project raised $54 million from Reddit co-founder Alexis Ohanian. 
Prior to this, Seven Seven Six, which is owned by Ohanian, invested $10 million in the startup behind the Moonbirds collection of non-fungible tokens called Proof.
NFT trading volume continued its global decline in August 2022. OpenSea (accounting for 70% of market share) plunged to $500 million (which is 300,000 ETH).
YouTube recommendation algorithms criticized for uselessness
New research from Mozilla shows that user controls have little effect on which videos YouTube's influential AI recommends. This is what The Verge reports.
Researchers analyzed more than 20,000 accounts of people who had installed the RegretsReporter extension. It allows users to filter content and hide irrelevant videos.
According to Mozilla, the "Dislike", "Not interested" and "Stop recommending channel" buttons barely have any effect on the recommendation system. Users still came across similar content.
In the best case, the algorithms do not do a good job and offer more than 50% of unwanted videos in the feed, according to the authors of the study. At worst, the result produced by the buttons is negligible.
On average, the "Dislike" button changed recommendations in 12% of cases and "Not interested" in 11% of cases as well. "Don't recommend channel" and "remove from history" buttons were slightly more effective — they prevented 43 percent and 29 percent of bad recommendations.
Analysts believe that the online video sharing platform should focus on the issue and recommend fewer inappropriate videos in the feed.