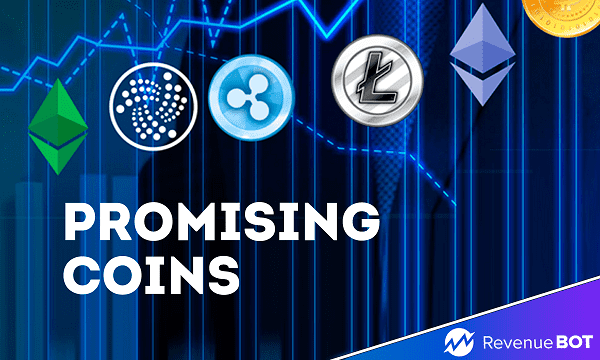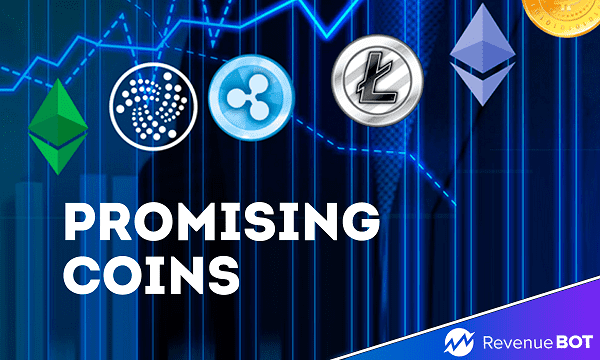 Numerous cryptocurrencies and tokens appear every day. Some of them are of a practical nature, which means they perform some sort of function. Others, on the contrary, have a purely entertainment purpose and may be in demand only due to the strong buzz around the project. RevenueBot has highlighted a few coins to watch out for. 
Helium (HNT) 
HNT is a brand new cryptocurrency earned when Hotspots provide and validate wireless coverage and transfer device data over the network. What's more, HNT is Helium's native token for governing a decentralized, blockchain-based network for Internet of Things (IoT) devices.
Its developers are building the world's first P2P wireless network. It will allow low-power wireless devices to communicate with each other and send data through its network nodes.
Nodes are known as access points, which are a combination of a wireless gateway and a blockchain mining device. Thus, users who run nodes mine and receive rewards in HNT.
Helium is committed to improving the communication capabilities of wireless IoT (Internet of Things) devices. Back in 2013, the IoT infrastructure was still in its infancy, except developers wanted to incorporate decentralization into their product offerings, thus the formal literature referred to it as the "The People's Network."
The Graph (GRT) 
The Graph (GRT) is the underlying asset of the eponymous platform and the indexing protocol for querying data for networks and other blockchains such as Ethereum. The token is ERC-20 based and is used to stake, delegate, and pay for subgraph queries to indexers, curators, and delegates.
The Graph is an indexing protocol for decentralized applications that allows developers to efficiently access blockchain data. Developers can build subgraphs that define how to ingest, index, and serve blockchain data in a verifiable way.
The protocol is the core infrastructure for Web3, a necessary component for delivering decentralized applications with consumer-grade performance. Any user can create and publish open APIs, called subgraphs, which makes the data easily obtainable. Subgraphs can be composed into a global graph of all the world's public information. This data can be transformed, organized, and shared across applications for anyone to query with just a few keystrokes.
Graph's vision is to enable Internet applications that fully run on public infrastructure.
ApeCoin (APE) 
ApeCoin is an ERC-20 token introduced by the creators of the Bored Ape Yacht Club (BAYC) NFT collection. It serves as a governance token within the ApeCoin DAO (a decentralized autonomous organization) and the APE Foundation, designed to support culture, gaming, and commerce. This will be rooted in the culture of the metaverse, with the token being available to buy, sell, and create your own life in the metaverse. 
The collection has been at the heart of the whole story around the NFT since it was first minted in the last summer. The BAYC community grew steadily as more and more celebrities chipped in and bought their own "bored primate" to demonstrate their wealth and appreciation of the new "culture." Among the owners of Bored Ape are Jimmy Fallon, Lil Baby, Paris Hilton, Post Malone, Jermaine Dupri, Eminem and many others.
The creators of the famous NFT collection have kept the momentum going by expanding the universe and monkey narrative with projects like the Mutant Ape Yacht Club and the Bored Ape Kennel Club (featuring dogs rather than monkeys), collaborating with Animoca Brands to explore launching new projects in metaverses, and even producing a series of animated films with Coinbase Pro.
Conclusion
When investing in new coins, you keep an open mind on all the risks, because the chances of a coin remaining at the same price brackets or depreciating are sky-high. 
This material is not a piece of financial advice and is for informational purposes only.
If you don't want to count on luck, RevenueBot offers an automated trading interface. You can trade on the leading crypto exchanges, including: Binance, Bittrex, FTX, OKX and others. RevenueBot allows traders to create trading bots that provide stable passive income. Among the main advantages of the platform we can highlight the following:

Fees for the service are charged only after the first profit, no prepayment required;

RevenueBot's native marketplace is a great way to buy a ready-made bot as well as to sell a lucrative configuration; 

The RevenueBot referral program enables you to earn without having to do any trading by yourself;

RevenueBot uses a Dollar Cost Averaging (DCA) strategy, through which you can successfully trade and make profits over the long run;

Automatic switching of trading pairs makes it possible to benefit from trading at any time. The bot itself will switch to another trading pair if the main one will not be able to do the earning. 
You can learn more about the features of the platform on the RevenueBot official website.