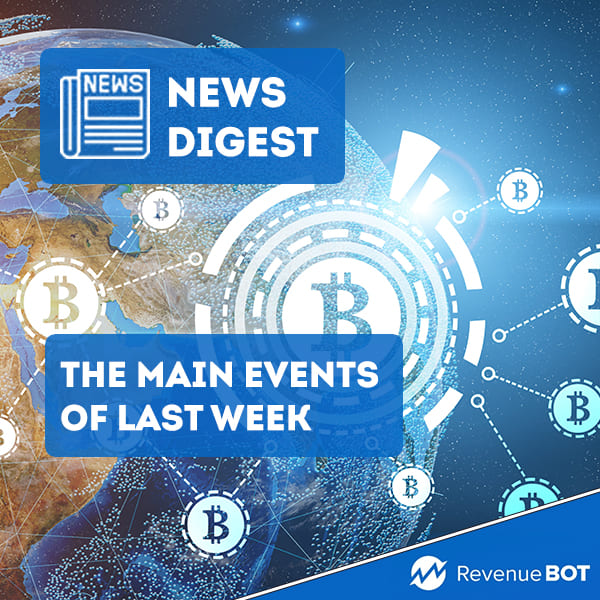 Friday, 11th of November. As the week comes to an end, we can focus on the highlights of the crypto industry over the past few days.
SEC seeks promotion of HEX, Pulsechain and PulseX
The U.S. Securities and Exchange Commission (SEC) has issued subpoenas to influencers engaged in marketing the HEX, Pulsechain, and PulseX crypto projects. This was announced by Eric Wall, CIO of Arcane Crypto.
"We believe that you may possess documents and data that are relevant to an ongoing investigation being conducted by the staff of the United States Securities and Exchange Commission," the regulator said in a cover letter published by the researcher.
According to the requirements of the subpoena, individuals who receive it must provide the required information by November 15, 2022.
In the comments section, members of the HEX community called the news fake. Wall responded by offering to show them "unblurred" versions of the documents.
"If they're fake—no harm right?" he stressed.
The researcher also pointed out that HEX news feeds are filled with tips on how to keep data anonymous, discussions, and destroy digital evidence. Wall cited a tweet by the project's founder, Richard Hart, to illustrate the point:
"Do you accept the good advice you're given? You think you do, but do you really? Are you using secret chats with self-destruct timers? Or are you a slow learner? Is it hard for you to click buttons?"
It is worth noting that in February Hart announced that he had purchased a rare black diamond, The Enigma, at a Sotheby's auction for $4.29 million in cryptocurrency. According to him, the gem named HEX.com will become the "cultural legacy" of the project's community.
Binance tops up SAFU fund to $1B
Amid FTX insolvency-induced market turbulence, Binance increased the SAFU fund to approx. $1 billion, Changpeng Zhao, Binance CEO said.
About $300 million of this amount is in BTC, the remaining ~$700 million is in BNB and BUSD.
Total deposits amounted to nearly $215 million – which equals 194,500 BNB (~$62 million) and 8,325 BTC (~$153 million).
"It's our responsibility to protect our users while not only … and most secure platforms, but protecting them from any unforeseen issues. By providing the SAFU fund, we can give users some peace of mind," CZ claimed.
Besides protecting user interests, SAFU's definition encompasses three essential components towards mass adoption: trust, integrity, and transparency, according to the press release.
Binance launched this fund back in 2018. Particularly, in 2019 it made up for $40 million in stolen crypto. The company receives a share of the commissions paid by users. Funds are held in BNB, BUSD and BTC.
As of late January 2022, the total fund size stood at $1 billion. Against the backdrop of deteriorating market conditions, the figure dropped to $735 million.
PhotoRoom now offers background resetting for your photos
Photo editing app PhotoRoom has launched a new feature named Magic Studio that uses AI to personalize product shots. This is reported by The Verge.
Magic Studio is based on the Stable Diffusion text query image generator. To use the feature, you need to upload a photo of the product, describe the item in one word and the desired background.
The algorithm will then auto-delete the background and replace the element in the new image. The resulting image will be emailed to you within a few minutes.
Magic Studio cannot be used to edit pictures of people or animals.
It is a tool intended for online sellers, according to the developers. Moreover, Magic Studio allows you to create images quickly, perfect for posting using a set of customizable templates that have been pre-configured for platforms like eBay or Shopify.
Reportedly, uploaded content sometimes looks distorted or completely overwritten.
Besides, the tool performs poorly on pictures that show human hands.
Magic Studio is available to PhotoRoom Pro subscribers using the English version of the software. It costs $9.49 per month or $46.99 per year.
As you may remember, back in October, Shutterstock partnered with OpenAI to sell stock images generated by the DALL-E 2 model.
Ramp, a crypto startup, raised $70M
Ramp, an infrastructure cryptostartup, brought in $70 million in a Series B funding round led by Mubadala Capital and Korelya Capital.
Venture capital firm Cogito Capital and incumbent investor Balderton Capital are among the participants.
Ramp founder Szymon Sypniewicz declined to disclose to The Block the estimate reached. He reported only that the company's valuation has increased by 50%.
In the last round of $52.7 million held in December last year, investors valued the startup at $300 million. Thus, the figure could have exceeded $450 million by this very month.
Ramp's core product is a payment software development kit that allows users to purchase cryptocurrencies. It enables users to buy crypto via debit and credit cards, bank transfers and Apple Pay, both within and outside the startup's platform.
According to Sypniewicz, 70 percent of the payment volume comes from Europe and the United States. The company is considering expansion opportunities in Asia and Latin America.
"We are incredibly excited about Mexico and Brazil because these are very big markets. But also because there's very strong crypto literacy there," the Ramp CEO stated.
The company also expects to enter the Japanese and Korean markets, relying on Korelya Capital's networks in the region.
According to Sypniewicz, the funds obtained will finance the future development of the company throughout the next three years.
It should be noted that in September Bolt Financial refused to buy blockchain startup Wyre Payments, a competitor of Ramp, for $1.5 billion. However, the fintech startup signed a takeover agreement in April in order to enter the crypto market.