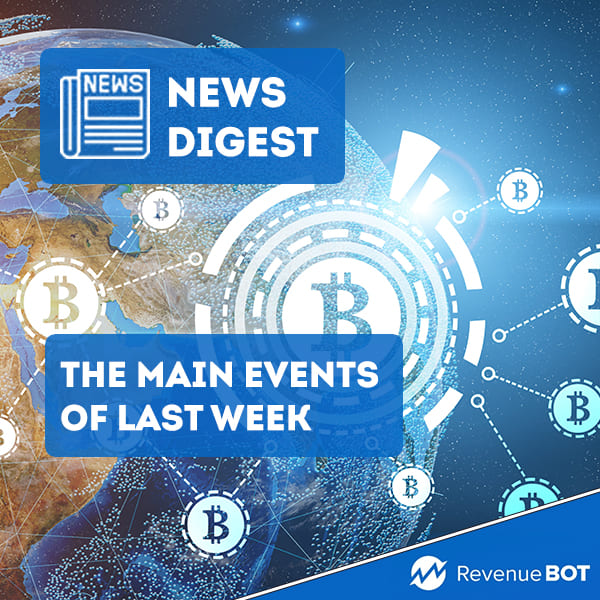 Friday, 25th of November. As the week comes to an end, we can focus on the highlights of the crypto industry over the past few days.
Binance launches cloud mining service
The Binance Pool has rolled out its Cloud Mining service, allowing users to purchase hashrates and mine BTC on cloud.
The platform has announced a zero management fee for people who sign up during this month until 22 December. According to the announcement, there is a 1.5% management fee. Additionally, the service charges a 2.5% mining pool fee.
"With Binance Cloud Mining, you can forget about hardware as well as site sourcing and leasing for mining farms entirely. Leave operations and maintenance to us, your trusted and reliable partner," reads the pool's website.
In October, Binance advertised the launch of its cloud-based products for first-ever cryptocurrency to be mined. At the same time, the exchange declared a $500 million fund to provide debt financing to struggling miners.
By entering the field of cloud mining, the exchange pool becomes a rival to the Bitdeer platform, which in January 2021 was taken over by Jihan Wu as part of a payoff for his departure from Bitmain. Micri Zhang, another co-founder of the cryptocurrency mining equipment manufacturer, backs the BitFuFu service which provides similar tools.
Bitdeer went on to launch a $250 million investment vehicle in September to buy assets from "distressed" miners.
As you may remember, amid the bear market, digital asset manager Grayscale Investments has launched a product to co-invest in mining equipment at "significantly reduced prices".
Uniswap revised privacy policy
Uniswap, the market-leading non-custodial exchange, has updated its privacy policy and outlined rules for protecting user data.
"First and foremost, we do not collect and store personal data, such as first name, last name, street address, date of birth, email address, or IP address," the platform team pointed out.
However, this DEX makes use of certain network data and customer crypto-related information to "make data-driven decisions that improve user experience. 
The developers specified that this applies to mobile device identifiers, cookies, local storage information, OS data, software languages and browser version. Such data helps, for example, to study user preferences and improve interaction.
Uniswap has confirmed that it screens customers' wallets using third-party analytical tools to detect illegal activity.
Uniswap also cautioned users that it may share certain data with infrastructure service providers like Infura and Cloudflare. Likewise, the platform will share available information upon request from the judiciary and, if necessary, to a third party for compliance purposes.
Staking withdrawal feature to be tested by Ethereum developers
The Ethereum team has launched devnet aiming to test a feature for validators to withdraw cryptocurrency from a deposit contract. This was revealed by Geth client developer Marius Van Der Wijden.
Interviewed by The Block, Van Der Wijden noted that the launch of devnet would prepare the blockchain for the roll-out of the withdrawal feature. The feature is planned to be integrated in 2023 as part of the Shanghai renovation.
"It's the first devnet that enabled withdrawals on all of these implementations and is a big step forward. It also helps other clients to test their implementations by joining the network," Van Der Wijden told The Block.
According to him, in addition to the Geth team, a number of developers from Lodestar, Teku, Lighthouse, Nethermind and Prysm have joined the test.
Liam Horne, head of OP Labs (Optimism), also revealed on 24 November that the core Ethereum development team will discuss the possibility of integrating the EIP-4844 proposal into the blockchain. 
Coinbase shares plummet to an all-time low
At the close of trading on 21 November, Coinbase exchange shares plunged to a new all-time low of $41.23. Investors have responded to deteriorating conditions in the digital asset market and the increased uncertainty caused by the FTX collapse.
In trading, the all-time low hit $40.61 at the time. Shares rose 5.24% to $43.39 the following day. So far this year, long-term investors in Coinbase have suffered an 82.8% loss.
Exchange officials distanced themselves from the collapsed competitor. It has urged customers to "trust the platform" because of strict compliance with US regulatory requirements and the lack of practices that led to FTX's shutdown.
In a blog post on November 8, the company said it did not hold any shares in the struggling exchange and that it had $15 million in customer transaction accounts, while its cash and cash equivalents position stood at $5.6 billion. Platform representatives pointed to no transactions with FTX and the latter's sister exchange, Alameda Research.
The next day, Coinbase CEO Brian Armstrong ruled out the impact of the FTX crisis on the bitcoin exchange he heads.
On the same day, it was revealed that ARK Invest's Cathie Wood resumed buying the company's shares.
The US bitcoin exchange reported a net loss of $545m for the third quarter, compared with $1.1bn in the previous period. Transaction fee income fell by 44%.
As of November 21, analysts at Kaiko indicated that trading volumes on bitcoin exchanges had more than halved on a weekly basis following the FTX collapse.
Earlier, Coinbase analysts predicted a continuous crypto winter due to the FTX meltdown.