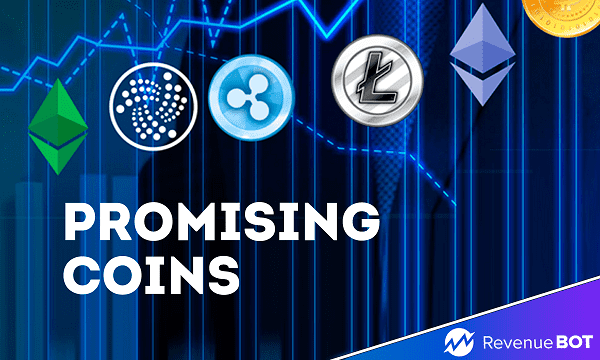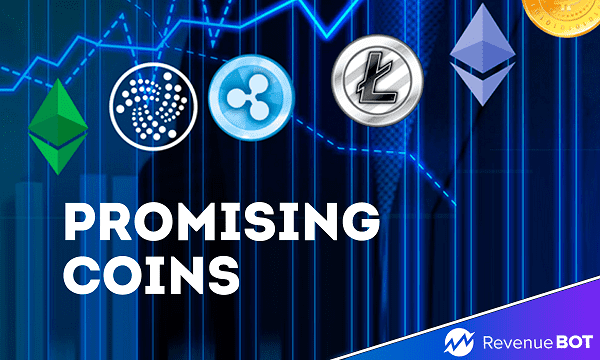 Numerous cryptocurrencies and tokens appear every day. Some of them are of a practical nature, which means they perform some sort of function. Others, on the contrary, have a purely entertainment purpose and may be in demand only due to the strong buzz around the project. RevenueBot has highlighted a few coins to watch out for. 
Chia Network (XCH)
XCH is the Chia Network's native token, used for all smart transaction capabilities. The project declares its mission as the improvement of the global financial and payment systems.
The Chia Network blockchain is written in the Chialisp programming language and operates on the classic consensus algorithm described in 2008 by Satoshi Nakamoto, but instead of the energy-consuming Proof-of-Work mechanism (proof of work), another one is implemented – Proofs-of-Space-and-Time (proof of space and time). Hard drives are used to mine this cryptocurrency, as well as cell phones, laptops and other devices fitted with a hard drive are quite suitable.
Chialisp is Chia's new on chain programming language that is powerful, easy to audit, and secure. It will make cryptocurrency easier to use than cash. Chialisp is a superior on-chain smart transaction development environment that will unlock the security,transparency,and ease of use that cryptocurrencies promise.
As it has been said before, Chia uses a novel Proofs-of-Space-and-Time approach. It all is outlined by the authors of Chia in two articles for the International Association for Cryptographic Research.
Vechain (VET)
Vechain is basically a platform, which can perform conversions concerning the data of the information field. It aims to create a distributed business ecosystem based on blockchain technology that is self-driven and selfexpanding The project digitizes real people, products or events by linking the API to the application layer of the system, connecting the blockchain to real information.
Vechain developers strive to create the safest possible place to make transfers. The project was launched in 2015. The purpose of the platform is to create a easy-to-follow registry of goods and services, as well as to manage them.
Since then there have been numerous useful updates, as well as several strategic revisions. The Vachein team now cooperates with renowned brands and organizations involved in the textile industry. Apart from that, developers cooperate with companies working in other fields. It is planned to expand the areas of business processes.
Another thing is that Vechain is not considered a young currency, given that it was already initiated seven years from now. Its home country is Singapore, which implies the use of the most progressive methods of creating this crypto.
Digital Cash (DASH)
DASH is a cryptocurrency with a focus on anonymity. Digital Cash protects your personal data with DarkSend technology, so transactions are truly unidentified. Spurred by the CoinJoin project, which was supposed to anonymize Bitcoin transactions, this technology was born.
After the rebranding, Dash began to position itself as an anonymous open source digital currency for the general public. The focus is on security and speed of transactions.
Darkcoin was launched on January 18, 2014, with no pre-mined coins. It uses the X11 hashing algorithm with 11 hashes, namely blake, bmw, groestl, jh, keccak, skein, luffa, cubehash, shavite, simd and echo, which makes this coin especially secure. In today's version, only 22 million coins can be issued, which is designed to curb the growth of the coin.
The organization system of Dash is substantially different from other cryptocurrencies. As such, it follows the principles of decentralized autonomous organizations (DAOs).
Conclusion
When investing in new coins, you keep an open mind on all the risks, because the chances of a coin remaining at the same price brackets or depreciating are sky-high.  
This material is not a piece of financial advice and is for informational purposes only.
If you don't want to count on luck, RevenueBot offers an automated trading interface. You can trade on the leading crypto exchanges, including: Binance, Bittrex, FTX, OKX and others. RevenueBot allows traders to create trading bots that provide stable passive income. Among the main advantages of the platform we can highlight the following:

Fees for the service are charged only after the first profit, no prepayment required;

RevenueBot's native marketplace is a great way to buy a ready-made bot as well as to sell a lucrative configuration; 

The RevenueBot referral program enables you to earn without having to do any trading by yourself;

RevenueBot uses a Dollar Cost Averaging (DCA) strategy, through which you can successfully trade and make profits over the long run;

Automatic switching of trading pairs makes it possible to benefit from trading at any time. The bot itself will switch to another trading pair if the main one will not be able to do the earning. 
You can learn more about the features of the platform on the RevenueBot official website.