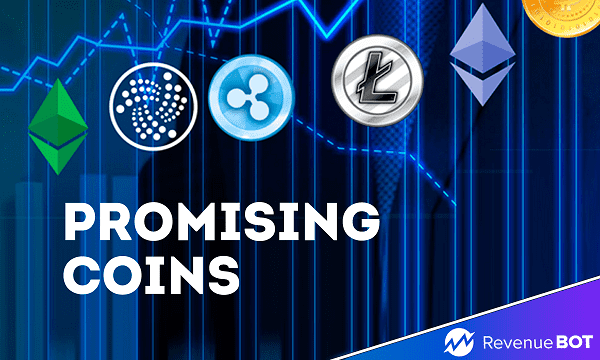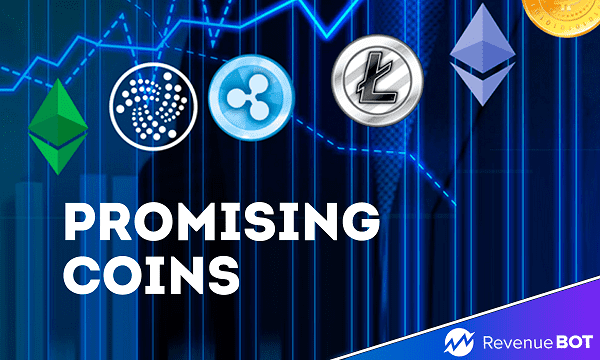 Numerous cryptocurrencies and tokens appear every day. Some of them are of a practical nature, which means they perform some sort of function. Others, on the contrary, have a purely entertainment purpose and may be in demand only due to the strong buzz around the project. RevenueBot has highlighted a few coins to watch out for. 
Mina (MINA)
MINA is a coin designed to reduce computational requirements to run dApps more efficiently, while also being the world's lightest blockchain, Mina Protocol. Mina's blockchain always remains a constant size despite increasing usage, although it is well-balanced in terms of security and decentralization. A project rebranding from the Coda protocol to Mina took place in October 2020.
Mina is currently working on an advanced distributed payment system allowing users to independently validate the platform directly from the genesis blockchain. It is called a "succinct blockchain" in its white paper. The Mina network is only 22 KB in size, miniscule compared to Bitcoin's 300 GB blockchain.
What the protocol uses is Zero Knowledge Proof (zk-SNARKs, Zero Knowledge Succinct Noninteractive Argument of Knowledge), which allows anyone to authenticate the information without revealing it. However, allowing the user to trace a platform to its genesis block is not likely to work well on a large network. To summarize, Mina gradually computes SNARKS that focus only on the last few blocks, implying that end users validate compressed zk-SNARK proofs rather than the entire block's transaction history.
Cronos (CRO)
Cronos is a decentralized blockchain-based network intended for user-to-user trading. CRO is the core token of the system. With this token, you can make mutual settlements between different assets.
The goal of the project is to create user-friendly products as a way to accelerate the adoption of cryptocurrencies as units of payment all over the world.
To achieve this goal, the Cronos team designed its own mobile wallet, which is connected to the credit and debit card. Notably, Cronos issues payment cards under a partnership with VISA. It is this very project that pioneered the crypto industry to enter into such an agreement with a company of such level.
Monaco Technology, headquartered in Switzerland, is responsible for the development of the Cronos (Crypto.com) payment system.
Bitcoin Cash (BCH)
BCH is an altcoin version of the well-known Bitcoin. It was obtained by a hard fork of the original blockchain. As part of the standard protocol, Bitcoin Cash itself replicates the original Bitcoin in almost all aspects, namely the PoW under the SHA-256 hashing algorithm, the total number and size of coin minting totaling 21 million tokens, as well as block time and an identical reward system.
The background of the Bitcoin Cash begins when strong conflicts began to arise in the Bitcoin community due to the outdating of the BTC and the emergence of much more technologically advanced cryptocurrencies against this backdrop. You can see that the main reason is the outdated Bitcoin code. To continue its evolution, a fundamental upgrade was required.
Therefore, a block size of 1 MB is clearly not enough for the proper functioning of the entire network. Bitcoin transactions are still found to be extremely slow, with fees increasing instead.
Moreover, it would last for a long time, but still experts began to take bold steps to improve, so as not to hit the image of Bitcoin too badly.
As a result, the community split in two. One stood for preserving the original Bitcoin with subsequent smooth innovations in the system, while others pushed for drastic and rigorous changes, such as a hardfork. Consequently, a new crypto was born with a block size of 8 MB.
Conclusion
When investing in new coins, you keep an open mind on all the risks, because the chances of a coin remaining at the same price brackets or depreciating are sky-high.  
This material is not a piece of financial advice and is for informational purposes only.
If you don't want to count on luck, RevenueBot offers an automated trading interface. You can trade on the leading crypto exchanges, including: Binance, Bittrex, FTX, OKX and others. RevenueBot allows traders to create trading bots that provide stable passive income. Among the main advantages of the platform we can highlight the following:

Fees for the service are charged only after the first profit, no prepayment required;

RevenueBot's native marketplace is a great way to buy a ready-made bot as well as to sell a lucrative configuration; 

The RevenueBot referral program enables you to earn without having to do any trading by yourself;

RevenueBot uses a Dollar Cost Averaging (DCA) strategy, through which you can successfully trade and make profits over the long run;

Automatic switching of trading pairs makes it possible to benefit from trading at any time. The bot itself will switch to another trading pair if the main one will not be able to do the earning. 
You can learn more about the features of the platform on the RevenueBot official website.