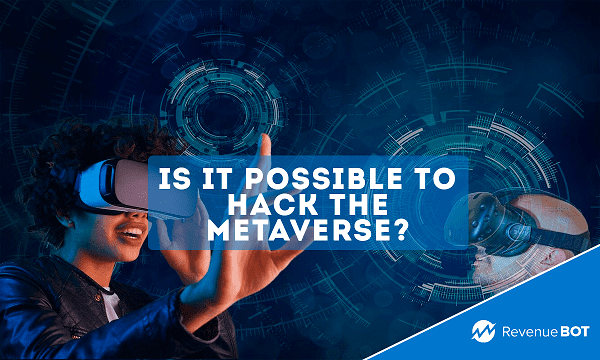 The metaverse is a new and exciting medium attracting ever-increasing attention. Whether the future of such places is bright or dark may depend on how we handle the technology.
The advent of the metaverse opens up an extraordinary opportunity to revolutionize the way people interact with both technology and each other. That said, there seem to be certain risks and limits that you must take into account when adopting new technologies. Among the potential pitfalls of this solution are possible intrusions into the metaverse, as well as security problems and all sorts of legal complications.
To learn about the hazards of metaverses and how to ensure your safety while being there, read on.
Possible issues concerning the metaverse
There exists a serious privacy issue surrounding the metaverse. People in this virtual world unintentionally disclose sensitive data, or personal information, which in turn increases the risk of being hacked.
As native coins of any metaverse become the target of cyberattacks as well, we need proper precautions for security and regulation.
Moreover, if you wish to start earning crypto today, feel free to use our ultimate trading assistant – the RevenueBOT. With its help you save both time and effort that you devote to trading.
With the popularity and accessibility of the metaverse growing, it is becoming an alluring target for cyberattacks and data leaks. Unauthorized access to confidential information in virtual communities leads to severe consequences, such as financial loss, identity theft, and reputational damage. Given the distinctive features of the metaverse and the lack of clear guidelines to them, it is quite a challenge to protect data and ensure security. Therefore, users must take a proactive approach to securing their personal data as they navigate through the immense and immersive metaverse.
Regulating the metaverse is one of the greatest challenges that governments and other organizations face, since this environment is constantly evolving and reshaping itself. Due to rapidly changing technologies, it may be hard to regulate them, with limited resources and tools to administer them effectively. Failing to adequately supervise the metaverse can cause illegal activities and dangerous content to emerge.
While researchers are still unable to accurately predict how the metacommunity would affect our society, this is a new and ever-evolving field. Some believe that new developments can enhance communication and social connections, whereas others suggest that they may lead to even greater social isolation.
How crooks can exploit the metaverse?
Cybercriminals keep hunting for prey in the borderless virtual realm, taking advantage of virtual infrastructure vulnerabilities and user self-confidence.
There are several methods through which hackers use the metaverse for their own gain:
Phishing scams: Be wary of the tactics of cybercriminals, who often use a vast array of phishing techniques with the ultimate goal of tricking unsuspecting people into submitting personal information or access credentials.
Account hijacking: In order to gain access to your funds or sensitive information, hackers tend to compromise user accounts or virtual reality software.
Malware: More and more often these days, attackers resort to malicious software as a means to gain access to sensitive data or to carry out illegal activities. What these viruses do is infect the virtual environments and devices that sustain the metaverse, thus posing a threat to the security of the digital world. Be careful and protect your devices from malware to avoid potential consequences for you and your information.
Chances of fraud: Cybercriminals exploit the lack of effective regulation in the metaverse to conduct fraudulent schemes, including Ponzi schemes.
The ransomware threat: Before requesting payment for the decryption key, attackers encrypt the user's digital assets or personal data through a ransomware program.
Exploitation of digital goods: Crooks feel free to use all sorts of tools, including bots, to acquire different goods or assets in the metaverse. Once this is done, all your data is transferred to the black market to be sold for real money.
Crypto scams: A crook creates cryptocurrenciesthat end up being counterfeit. The reason why this is done is so that a negligent investor would invest in a coin, which would then just disappear, together with the invested funds.
As for traders who trade on exchanges using crypto as a financial instrument, we suggest them to use our trading bot for Binance.
Safety precautions
When it comes to protecting your digital identity in the metaverse, it requires stronger passwords, vigilance against questionable services and sites, and prudent online disclosure of personal data.
The following are a few tips to help keep yourself safe in the metaverse.
Stay alert when disclosing personal information: Be extra cautious about providing any data online and be wary of illegal requests for information about yourself.
Stay one step ahead of potential security breaches by upgrading your hardware and software. Be sure to enhance your so-called digital fortress by regularly updating your devices and software with the latest security patches.
Immediately report any suspicious activity or behavior to the appropriate authorities or the platform's moderating team to take proper action. Feel free to report any dubious activity to ensure that you and others are safe.
Conclusion
Hacking the metaverse means gaining unauthorized access to personal details, accounts and other digital resources of the virtual space. Despite the fact that the technology is just beginning to develop, cybersecurity threats do exist and pose grave consequences.