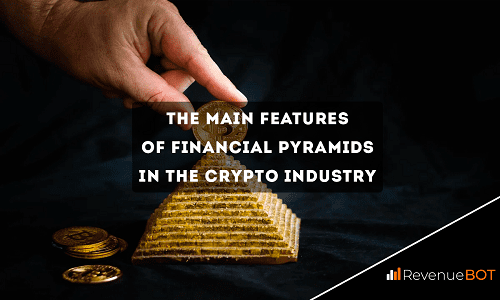 In the first half of 2021, the Central Bank of Russia discovered 146 organizations that operated on the principle of financial pyramids. The total number of victims is in the millions. And these are just the ones we know about. It is believed that the victims of the financial pyramids are mostly CIS residents, not Americans, who receive financial literacy from the school bench. In the United States, however, people also lost more than $3 billion in financial pyramids in 2019. Now, increasingly, fraudulent organizations are masquerading as cryptic projects. We'll talk about how things work in this article.
Financial pyramids in the crypto industry
As you know, a financial pyramid works according to this scenario:
An organization is registered under the guise of a commercial institution.

Fundraising begins, under the guise of project development.

At the top are the founders who offer profits to new customers if they invest in their business.

When new investors appear, the previous ones are paid money, just from newcomers. After that, everything goes on increasing.
As for the market of cryptocurrencies. The pyramid does not have a free market where they can trade their "wrappers". It is necessary to analyze and understand which exchanges trade the token offered to you. Ideally, the token should be traded on a large number of sites, with popular exchanges among them. If the token is represented on only one site, then you should treat it with great care. What happens if the site closes?
Financial pyramids have liquidity problems. If a token is traded on multiple exchanges, it is necessary to check its warrants. We also need to check the transaction history of this token. If the token has a high demand for exchange trading and other similar facilities, that's good. Because you will always have options to find liquidity on external resources.
The real cryptocurrency project usually has its own software: mobile applications, browser extensions, where you can always find support from developers. Financial pyramids are always complicated.
The pyramid doesn't have an active community. All communication on forums or telegram channels is based on the principle of "attracting as many new customers as possible". You will not find a variety of content, live communication of participants and various types of voting there. If you try to write a specific question and express your doubts about the project, then most likely you will receive a template answer or simply the message will be deleted.
The fundamental condition for the pyramid is to attract new investors. Therefore, the participant must bring his friends or use a referral link. Cryptocurrency projects or exchanges also have a reward system if you have used a referral link. However, the bonuses will be much more modest.
Typically, financial pyramids promise their investors huge annual returns or fixed returns. No single cryptocurrency project will guarantee a profit. The success of an investment in any token will depend on the market situation.
Pyramid tokens have no function. While real tokens will give the user the opportunity to vote, where the future of the project will be discussed. Crypto projects also allow the use of token as currency in some video games or video hosting.
Please note the source of information on the token in which you are offered to invest. This could be a good help to quickly identify a potential financial pyramid. It is worth it to pay attention to the resource where you found information about potential investment. If it's a site with a long history that values its reputation, then that's a good sign. These sites usually check the information that is published. This is done to preserve the image of the resource. If it is noticed that the site advertises a financial pyramid, then the trust in it will be greatly damaged. If the message about some asset came in a newly created telegram channel, and even as spam, then it is worth bypassing the offer.
If a familiar person offers to invest in a project, you need to ask yourself the following questions: why is this for him? What investment background does he have? And with what emotions he gives you information. An investor with many years of experience behind him will definitely mention the risks of investments. It doesn't matter where he invested, whether it's cryptocurrency or bonds, there is risk everywhere. He will recommend starting to invest with small amounts, so that in case of failure, it will not greatly affect your financial condition. But a fraudster or a person who has fallen under his influence will be too optimistic to talk about the project. It will definitely rush you and recommend you to invest a large amount of money. And this, as you understand, does not fit in with the generally accepted norms of investing and managing funds.
What other important criteria should be taken into account?
License of the Bank of Russia
The Financial Pyramid will not be able to have a license from the Bank of Russia to conduct its activities. As a rule, such organizations will say that they do not need such a licence because they have "special" activities. So if you can't find information on the Central Bank website, you should be careful.
Guarantees of profitability
As we wrote earlier, real projects will not guarantee 100% profit. While a pyramid of finance can promise 30% of the profits per month, or 1% per day of the total investment. It is not difficult to understand that the amount by the end of the year should be substantial. However, for some reason, there is not a single billionaire on the Forbes list who has made a fortune from investing in such an organization.
It should be borne in mind that it is illegal to guarantee profits at the legislative level. Only banks with respect to bank deposits are permitted to issue such a guarantee. If you are guaranteed an income from a project other than a bank, know this is a fraud.
Opaque system
An investor always has the right to know where he invests his money and how it works. The organizers of the project may hide the data under the guise of trade secrets, hide behind authors or secret methods, but know that this violates the disclosure rules for the investor. So if you don't understand where your money is going and how the profit is going to be made, then you have to avoid that kind of investment.
The refund is postponed
There are a number of people who, after they have invested, begin to realize that they have entered the pyramid. It's natural for them to want their money back. However, this is where the complications begin. The client will try to dissuade by offering to extend the contract on "better terms". But if a person keeps on standing their ground, then the company has "technical problems that can only be solved tomorrow". As you can imagine, for many people, it's not "tomorrow".
Conclusion
As it may seem, it is easy to distinguish a financial pyramid from a real project, but in fact – not everything is so simple. If everything was easy, then people would stop investing in them in the hope of getting rich. It would seem that you should study the market, financial instruments and start investing in normal assets. But this is much more complicated than the scammers offer, who need you to simply send them funds, or even better-bring a few friends. All this is due to greed and low financial literacy. And until a person understands that nothing is given for nothing, he will continue to enrich others, while remaining with nothing. 
However, today you can try to start trading on the world's leading exchanges with RevenueBot. The service provides the opportunity to create trading bots on the largest cryptocurrency exchanges: Binance, Bittrex, Bitfinex, Exmo and others. Creating a bot is free of charge, the service will not take commissions until the client begins to make a profit from trading the bot. With the help of deep settings of the bot, the service's clients implement trading strategies that are problematic to experience in normal trading. We will immediately indicate: the bot does not have access to customer funds on the exchange, but trades using API keys, that is, the account will remain out of access. RevenueBot has over 28 thousand customers who earn money thanks to trading bots.
Why should I choose this service?
Pay the commission only after making a profit.

The bot settings open up a variety of ways to make a profit.

Inside RevenueBot, a marketplace is implemented where customers can buy a ready-made bot so as not to bother creating their own, or sell their own if the configuration has shown efficiency. Also, the services of a mentor (an experienced customer of the service) are purchased on the marketplace, who is ready to answer the questions of newcomers. Over time, you can become a mentor yourself, getting additional profit for this.

Regular updates of the service's features that optimize the trading process.

The presence of the RevenueBot referral program allows you to earn money on trading, even without resorting to trading. Attract new customers for the service and get up to 30% of the profit they receive every month (but not more than 15 USD).
This is a small list of the advantages of the service. You can continue to list the positive qualities of RevenueBot, but why do this if you can go to the official website of the service and see for yourself everything? It is highly recommended to make decisions faster, because the crypto market does not stand still, but grows at exorbitant steps. Who knows how much profit is missed by someone who does not dare to come and start trading with RevenueBot.