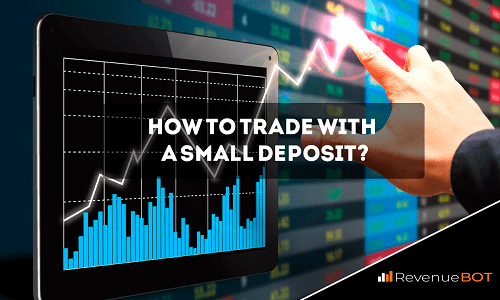 The crypto industry is steadily developing. At the same time, many people have a desire to find an additional source of income. However, not everyone has the money and knowledge to start making additional profit on the stock exchange. Of course, you can watch training videos, read articles about it and have theoretical experience, but how can you get practical knowledge without being afraid of being left without funds? In this case, you can try yourself with a demo account on any exchange, but it's not so interesting when there is no feeling that you are earning.
In this article, we will analyze how you can start trading with a small deposit and whether it is possible to make a profit from this.
Theoretical knowledge
Before starting trading with real money and assets, it is worth studying the match. It's like high school, reading and studying new material, learning new things, looking for like-minded people so you can "fight" later. It's at this point that you can tell if you're interested in trading. If it looks like Chinese to you, it's okay, full understanding of trade comes with experience. It is another if at this stage you begin to understand that you are not interested in this topic. Without interest there will be no fruitful trade. In that case, you can simply start to invest monthly in some asset that you would like to explore first. This will help you avoid inflation and some additional capital will begin to emerge.
If, however, interest in investment and trade remains during the research, the next steps can be taken. This is to choose the trading platform on which the trading will take place. The cryptocurrency exchange is not hard to find, it is worth simply getting user feedback and reading all the terms and conditions provided by the platform.
Quick start
The cryptocurrency market allows traders to trade with almost any amount. It is not difficult to find a crypto exchange with loyal conditions and an asset that does not require large investments. After the whole theory is passed, you can go to the stock exchange and look for the asset of interest. It is worth starting with small amounts. Some cryptocurrency exchanges provide the opportunity to deposit $10 initially to the account. You can start trading with them safely and without fear of losses. Next, you can choose to trade with leverage. At the initial stages, it is better to take a leverage not higher than x10, and spend a maximum of 20% of the deposit. This will allow you to start studying the chart and analyzing the market. If your forecasts turned out to be incorrect and the market went in the wrong direction where you wanted, you can safely close the deal without losing so much money.
Experts and traders recommend starting trading with a deposit of $1000. These recommendations can be understood, since with such a deposit, the profit will be felt. However, the losses will also be more significant. Therefore, everything is already at your discretion, to trade and get only experience with a deposit of $10, or to get the same thing, but with a bonus that the profit and loss will be more noticeable.
Do not forget about stop losses and take profits. Let's say you opened a deal in the evening, the asset is growing in price and you go to bed with full confidence that this will continue all night. In the morning, you may be disappointed if the value of the asset has gone in the opposite direction. In this case, it is worth remembering about the stop loss to put the transaction at breakeven. Take profit is also necessary, but this is at the discretion of the trader himself with his analysis.
Risks
It is worth remembering that any trade and investment is accompanied by risk. Therefore, you should not invest in trading such an amount that can affect your financial condition. It is also undesirable to use credit money. For a loan, you need to pay monthly and overpay interest. It is better to trade with a cold head, which of course will not work if you always think of trading as a way of earning money to repay the loan. Therefore, it is worth starting trading with a small deposit. This way you will be sure that even in case of failure, you will easily survive the loss. At the moment, it is necessary to evaluate such trading as the acquisition of experience, not money. With the arrival of experience, you will be able to develop a trading strategy, and you will also easily find successful entry and exit points from transactions. Then the amounts will be much more than $10, but all in good time.
Also, it is worth having several different assets in the portfolio. You should not focus on bitcoin alone. There are other tokens on the market that you can pay attention to and invest in them.
Trading with bots
If you started trading with a small deposit and realized that it takes a lot of time and trading has begun to affect your main work, you can ask for help from trading bots. With their help, you do not need to look at your phone or computer every ten minutes to see how things are with your assets. Also, the bot does not need to spend a lot of time, you can put your quotes, and it will already trade for you until the end of the trading cycle, which was originally specified. That is, you are doing business, and trading continues to go on. Therefore, we can recommend one of the leaders of the segment for creating trading bots – RevenueBot.
The service provides the opportunity to create trading bots on the largest cryptocurrency exchanges: Binance, Bittrex, Bitfinex, Exmo and others. Creating a bot is free of charge, the service will not take commissions until the client begins to make a profit from trading the bot. With the help of deep settings of the bot, the service's clients implement trading strategies that are problematic to experience in normal trading. We will immediately indicate: the bot does not have access to customer funds on the exchange, but trades using API keys, that is, the account will remain out of access. RevenueBot has over 28 thousand customers who earn money thanks to trading bots.
Why should I choose this service?
Pay the commission only after making a profit.

The bot settings open up a variety of ways to make a profit.

Inside RevenueBot, a marketplace is implemented where customers can buy a ready-made bot so as not to bother creating their own, or sell their own if the configuration has shown efficiency. Also, the services of a mentor (an experienced customer of the service) are purchased on the marketplace, who is ready to answer the questions of newcomers. Over time, you can become a mentor yourself, getting additional profit for this.

Regular updates of the service's features that optimize the trading process.

The presence of the RevenueBot referral program allows you to earn money on trading, even without resorting to trading. Attract new customers for the service and get up to 30% of the profit they receive every month (but not more than 15 USD).
This is a small list of the advantages of the service. You can continue to list the positive qualities of RevenueBot, but why do this if you can go to the official website of the service and see for yourself everything? It is highly recommended to make decisions faster, because the crypto market does not stand still, but grows at exorbitant steps. Who knows how much profit is missed by someone who does not dare to come and start trading with RevenueBot.
Trading with leverage
Exchanges provide an opportunity for users to trade with leverage. How does it work? Let's say you have deposited $10 to the balance. We decided to buy Litecoin and start trading. At the time of writing, its price is $182. If you open a deal for 10% of the deposit, then you will need leverage. What it will be depends on your preferences, but it is better at first to take no higher than 10x. If you take a risk and start trading with a large leverage, then any price fluctuation will greatly affect the state of affairs. It is possible that your transaction may simply be liquidated due to a lack of collateral.
Conclusion
Trading with a small deposit will perfectly help you get an invaluable trading experience. Gradually, you will begin to create your own trading strategy, with the help of which future transactions will take place.
It is not necessary to turn trading into a gambling game. It is not uncommon for a trader to drain a deposit due to an incorrect analysis, and then open a deal with a desire to recoup. However, most often this leads to the fact that he begins to incur even more losses. To avoid this, you should not open with a large leverage. It is worth remembering that the cryptocurrency market has high volatility and it will not always be possible to come out as a winner.