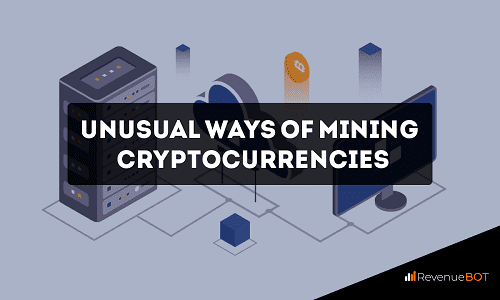 Since the first cryptocurrency appeared, enthusiasts and developers have come up with a variety of ways to mine digital assets. If 12 years ago, a conventional processor was enough for mining, which ensures the operation of a PC, today large computing power is required. However, not everyone is satisfied with this and crypto enthusiasts are creating new ways to mine the cherished coins. We will talk about the most interesting of them in this article.
The programmer and his ideas
Ken Shiriff, a software developer and a lover of rare equipment, thought about mining coins using an on-board control computer (AGC). This computer was invented to work with the command and lunar modules of the Apollo mission. AGC was invented in 1960. Then it was considered an advanced technology. To Shiriff's disappointment, AGC did not meet his expectations, since the computer extracted one hash in an average of 5 seconds. Then the programmer realized that the on-board computer would never get even one block, since it would take too much time for it to do this.
However, the developer did not stop there and went further. He thought, since the computer can't cope with the task of extracting the block, then his brain will be able to do everything by itself. Therefore, Shiriff took a piece of paper, a pen and began to perform calculations. After that, he manually entered all the results into the blockchain.
The disadvantages of such mining were obvious – it took too much time for all the work. To solve one cycle of the hash algorithm, the programmer spent almost 17 minutes. Mining stopped when Shiriff stopped performing calculations.
Mining the crypt with the help of breathing
A researcher from the UK, Max Duvey, decided to pay attention to eco-friendly ways of mining cryptocurrency. And he created a device that was able to mine the crypt using human breath. The basis of the device was a spirometer, which in turn was needed in order to measure the volume of the lungs. The calculation was performed by inhaling and exhaling a person. How was the device changed by Max Doovey when he started mining digital assets? The device processed the energy received from breathing into the calculation of a microcomputer, which supported the Monero blockchain. Actually, this particular coin was mined.
According to the creator of this technology, it is quite problematic to make a profit from this kind of mining. He just wanted to show other developers that it is possible to support the work of the blockchain in more environmentally friendly ways that will not require large costs.
Burning tires
In 2017, an American company PRTI, which produced the burning of unusable tires, signed a contract with the mining organization StandartAmericanMinig. The idea was that PRTI would burn tires and get energy from this, which could be used for mining various coins. This method turned out to be not only profitable, but also more environmentally friendly.
Growing tomatoes and making rum
Next, we will give two examples of how people thought of using the heat that is generated during the mining of cryptocurrencies.
As you know, mining farms are always accompanied with a large amount of heat generation. So, the crypto-enthusiasts from Nakamoto X have come up with a way to benefit from this. They agreed with the owners of vegetable greenhouses that they will place their farms on their territory so that they generate heat and help grow a new crop.
Also, the production of such an amount of heat is used in cold winters in other large rooms: in production workshops, cowsheds and military bases.
Another enthusiast, Azi Eisenberg, realized that this way it is possible to heat the premises. He produced rum, and to heat rum barrels, he began to use heat from mining farms. Thus, a new brand of rum appeared in his collection, under the telling name-EtherRum.
Human warmth
At The Hague Institute on Aging, scientists came up with an interesting technology. It's something called a suit that absorbs human heat and converts it into energy. Of course, it is still a prototype and no one can take it seriously. It is rather an example of how one can use one's own resources to extract a cryptocurrency in an environmentally sound manner. After the costume was invented, it was necessary to conduct an experiment to see what it was capable of. About forty people took part in this experiment, and it lasted 212 hours. Eventually 127 210 milliwatts of energy were collected. With this amount of energy, 16,000 coins were generated.
Car farms
One owner of Tesla came up with a way of mining using his car. He created a mini-farm right in the trunk of the car, and took energy at Tesla gas stations. The company gives its users the opportunity to recharge cars for free, at their own charging stations. According to the miner, he leaves the car to charge all night, and by the morning he already has a small amount of coins.
The second motorist is from Novosibirsk. Only unlike the American miner, no one provides him with free energy, so he decided to act more cunning.
Having also assembled a mini mining farm in his trunk, he connects it directly to the car's generator. He filmed the assembly process on camera and posted it on the YouTube channel. Only this type of mining can hardly be called profitable, because due to the small capacity performance, miners manage to earn about $6 per day.
Trading with a robot
Another simple way to make a profit from your investments is to trade using a bot. Trading bots in the cryptocurrency industry came from traditional markets. In traditional markets, they made a splash. Thanks to such a bot, it becomes possible to save the most important resource-time. And really, why sit at the monitor, follow the market movement, look for good moments to enter and exit a deal, if all this can be transferred to the robot? The first trading bots appeared at the dawn of the seventies, then they were quite primitive. Their function was to give a signal to the trader about market changes, and he himself decided whether to start trading or not. That is, the work was carried out 50-50 with the participation of a person. But progress was making, and the bots were improving. So, with the advent of cryptocurrencies, trading bots have already become an integral part of the life of traders and the transition from traditional markets to cryptocurrency remains a matter of time.
If you are a crypto trader and want to save your time, you can use the services of a trading bot. One of the leaders of the segment for creating trading bots today is RevenueBot. The service provides the opportunity to create trading bots on the largest cryptocurrency exchanges: Binance, Bittrex, Bitfinex, Exmo and others. Creating a bot is free of charge, the service will not take commissions until the client begins to make a profit from trading the bot. With the help of deep settings of the bot, the service's clients implement trading strategies that are problematic to experience in normal trading. We will immediately indicate: the bot does not have access to customer funds on the exchange, but trades using API keys, that is, the account will remain out of access. RevenueBot has over 28 thousand customers who earn money thanks to trading bots.
Why should I choose this service?
Pay the commission only after making a profit.

The bot settings open up a variety of ways to make a profit.

Inside RevenueBot, a marketplace is implemented where customers can buy a ready-made bot so as not to bother creating their own, or sell their own if the configuration has shown efficiency. Also, the services of a mentor (an experienced customer of the service) are purchased on the marketplace, who is ready to answer the questions of newcomers. Over time, you can become a mentor yourself, getting additional profit for this.

Regular updates of the service's features that optimize the trading process.

The presence of the RevenueBot referral program allows you to earn money on trading, even without resorting to trading. Attract new customers for the service and get up to 30% of the profit they receive every month (but not more than 15 USD).
This is a small list of the advantages of the service. You can continue to list the positive qualities of RevenueBot, but why do this if you can go to the official website of the service and see for yourself everything? It is highly recommended to make decisions faster, because the crypto market does not stand still, but grows at exorbitant steps. Who knows how much profit is missed by someone who does not dare to come and start trading with RevenueBot.
Conclusion
The development of the crypto industry does not stand still. Every day it develops with rapid steps. So crypto enthusiasts are coming up with new ways to mine cryptocurrencies. Most likely, they will not stand still and the world will still hear about new and unusual ways of mining.