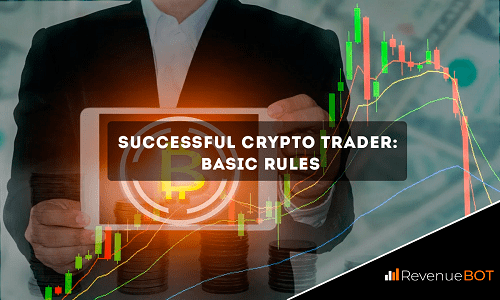 Many newcomers to the crypto industry are faced with the problem of choosing: invest or trade? If everything is more or less clear with investments – you choose the asset you like and invest in it, then the situation with trading is a little more complicated. There is an opinion that digital asset trading is considered to be almost the fastest way to make money and increase capital. But is it really so? In this article, we will give a few tips to follow while trading, and then, perhaps, you can make money on the crypto.
Make informed deals
Each new deal must be deliberate. You must understand why you bought the asset and what profit you hope to get. Also, before the opening, it would be good to have a clear strategy and action plan for any scenario. Do not forget that at any moment something can go wrong and you need to be ready for this. So don't forget to set your stop loss and take profit.
Take Profit and Stop Loss
When using any trade, set in advance a clear level where the profit will be taken, and especially importantly, the stop loss level at which the loss will be limited. The choice of where the stop loss will be located depends on how much loss the trader is willing to incur in case of failure. If you trade ignoring stops, then trading can quickly bring big losses. However, for the correct choice of the distance, from the entry level to the stop, it is necessary to take into account many factors, for example, the volatility of a particular currency pair.
A large number of newcomers to the market suffer losses precisely because of the overestimation of a trade, a coin, or luck. When the market situation develops negatively, ignoring stops, they feed themselves with the hope that everything can still change and the price will go the other way. However, as practice shows, such an alignment is extremely rare. As a result: control over the situation is lost and the deal goes into negative territory for the entire amount of the deposit.
Do not forget that trading in the cryptocurrency market is characterized by high volatility. There are often cases when an asset can lose more than 50% of its value in a few hours, and you hardly want to find yourself in this situation without a stop loss.
Fear of missed opportunity
Many traders, and just people interested in the cryptocurrency market, were disappointed more than once when they saw that this or that coin rose sharply in price. At these moments, thoughts may arise about what would happen if you bought this asset yesterday. And of course, there may be a desire to enter a trade as soon as a large green candle is seen. But in such situations, it is important not to lose composure and continue to think with a cool head. Yes, the people who bought before are "on the rise." But keep in mind that whales are simply waiting for more small buyers to buy an increasingly expensive asset in order to sell them the coins they once bought at lower prices. The price has risen very quickly, but it can also go down quickly. Therefore, it is worth dealing with those assets for which you already have open transactions. But if you still decide to chase your luck and open a deal at the "top" of the green candlestick, then again, do not forget to secure yourself with a stop loss.
Risk management
Successful traders have repeatedly said that they do not wait for the next wave of asset growth in order to close or open a deal. If the target level of profit is reached, then they fix it. One of the key secrets of successful trading is that you need to get, albeit small, profit from each open deal. This will form the overall level of income for the month. Expecting the continued growth of an asset after the target profit has been achieved is an unnecessary risk.
Psychological calm
Maintaining a position that is detrimental to the deposit is not a good idea, although the mental stress it causes is even more harmful.
After an unsuccessful deal that brought serious disappointments, it is worth resting for a few days. Focus on family or personal well-being, in a word – distract.
It is worth remembering that there is no trader who opens only successful trades in 100% of cases and leaves with a profit. Everyone suffers losses, the only question is the quantity.
How you can make trading easier and gain experience
In order not to risk real funds, you can often find a section with a demo mode on exchanges and trading floors. This section was created just for beginners who lack trading practice. With the help of a demo account, you will not risk anything when making trades, but this should also be taken seriously in order to gain important experience for future trading with real funds. In addition, the demo mode will allow you to follow the charts in real time, and if you feel that you are ready to start trading real currency, you will simply go to the normal mode.
For many novice traders, trading can take quite a long time that it will not be enough for yourself or your family. Here the main assistant of the trader – a trading bot – can come to the rescue. Bots not only save human time, but they can also conduct several transactions at the same time, and the trader will simply observe and adjust the work as needed. But which bot should you choose? We can recommend one of the segment leaders – RevenueBot.  The service provides the opportunity to create trading bots on the largest cryptocurrency exchanges: Binance, Bittrex, Bitfinex, Exmo and others. Creating a bot is free of charge, the service will not take commissions until the client begins to make a profit from trading the bot. With the help of deep settings of the bot, the service's clients implement trading strategies that are problematic to experience in normal trading. We will immediately indicate: the bot does not have access to customer funds on the exchange, but trades using API keys, that is, the account will remain out of access. RevenueBot has over 28 thousand customers who earn money thanks to trading bots.
Why should I choose this service?
Pay the commission only after making a profit.

The bot settings open up a variety of ways to make a profit.

Inside RevenueBot, a marketplace is implemented where customers can buy a ready-made bot so as not to bother creating their own, or sell their own if the configuration has shown efficiency. Also, the services of a mentor (an experienced customer of the service) are purchased on the marketplace, who is ready to answer the questions of newcomers. Over time, you can become a mentor yourself, getting additional profit for this.

Regular updates of the service's features that optimize the trading process.

The presence of the RevenueBot referral program allows you to earn money on trading, even without resorting to trading. Attract new customers for the service and get up to 30% of the profit they receive every month (but not more than 15 USD).
This is a small list of the advantages of the service. You can continue to list the positive qualities of RevenueBot, but why do this if you can go to the official website of the service and see for yourself everything? It is highly recommended to make decisions faster, because the crypto market does not stand still, but grows at exorbitant steps. Who knows how much profit is missed by someone who does not dare to come and start trading with RevenueBot.
Conclusion
Is it not difficult to become a successful crypto trader? as it might seem at first glance. Here, as in all other industries, experience is needed. You should not try to earn "all the money in the world" at the very beginning of your journey. It is better to gradually, step by step, develop a personal strategy that will soon be profitable.