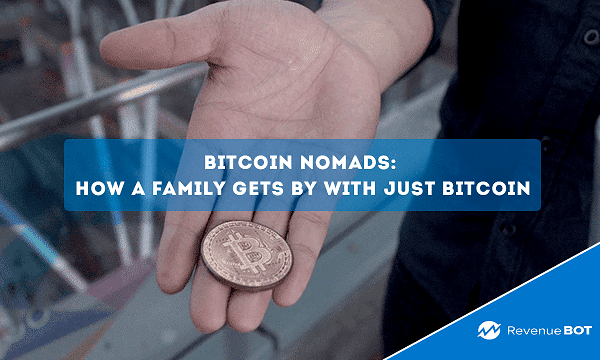 So many wonder whether it is possible to live using only digital assets. The Taihuttu family put their own example to show that it is possible. In 2017, with their three daughters, the couple decided to make a drastic life change. They sold a large house, several cars and all their other possessions, leaving the proceeds to buy bitcoin. Since then, the family has visited more than 40 countries, each time paying with digital assets only. Over that time Didi, the head of the family, has spoken around the world at blockchain conferences, authored a book, set up an online store, and now actively mentors crypto startups and donates money to charity. Now, the family believes that the first-ever cryptocurrency will soon be worth $100,000, the main reason why they are not selling most of the coins. Reveal how the Taihuttu family decided to become digital bitcoin nomads and how they survived the 2018-2019 bear market in this article.
How it all started
Didi Taihuttu is a 42-year-old Dutch.He is married to Romaine and has three daughters, Joli, Juna, and Jessa. At the age of 24, Didi's mother dies, after which he commits himself completely into work. By the age of 39, he had founded three companies, succeeded in his job, and acquired a house as well as made a fortune. 
In 2014, another disaster struck him – his father was diagnosed with cancer and had about a year to live. That's when he realizes that he wants to spend more time with family and father.
In January 2016, Didi's father passed away. The entrepreneur was mentally exhausted and wondered, "Spending 80 hours a week at work, not spending enough time with my wife and kids, is that all I want?"
The answer was not long in coming. He sells the entire business and sets off on a journey with his family for a few months. "With all the money we had, I couldn't save my father from a sickness. I couldn't cure him of cancer.It made me realize that money wasn't important to us anymore; it was important to be with my family.", he recalls.

Ideas about selling a house and buying bitcoin
Didi became familiar with cryptocurrency in 2010. Three years later, he invests in a $4,000 mining farm, but a year later closes it due to unprofitability, keeping the mined cryptocurrency for himself. He also acquired other coins, but became disillusioned with digital assets and forgot about them.
In January 2017, a friend of Didi's called him in Bali, where his family was staying, and suggested that he closely follow the exchange rates of BTC and DOGE. That's when the rally of crypto began.
Seeing the rapid growth of digital assets and the upsurge in hype, Didi decides to sell all the property and buy all the BTC. Initially, Romaine was not thrilled with the idea. All she knew about crypto was that her husband had bought it in 2013, but couldn't make any money. Didi, however, was able to convince her, and his wife agreed.
When the family returned from their trip, Didi began to sell the property. In a year, he sold a business, a $300,000 house, three cars, a motorcycle, children's bikes, clothes and even toys. With everything he could earn from the sale, he bought bitcoin. That's how he lived through most of 2017. Didi doesn't say how much bitcoin he has, but he invested between $100,000 and $1 million when BTC was between $1,000 and $3,000.
Of course, the family faced criticism and misunderstanding from friends and other family members. Everyone thought the couple was crazy as long as they invest all their money in crypto. But Didi stood his ground and said it was insane to rely on the existing financial system. He was sure that a bitcoin revolution was coming, which he wanted to be a part of.
The popularity of the Taihuttu family
Once the property is sold, the family moves into a small country house. They live there for the next few months. Initially, they wanted to settle into the house and lead a quiet life, but that all changed when the local media became aware of them. Unexpected fame came upon the Taihuttus.
All kinds of journalists wanted to interview the head of the family. Their reputation grew quickly, and they gained interest not only from the local press, but also from journalists in the U.S. and Australia.
Family trips
In late 2017, Didi became passionate about trading and started spending most of his time in front of a computer. As a result, he gained 15 kilograms and his wife realized that it was time to make a change. So the couple made up their minds to go on the adventure again.
Before long, a major European TV channel offered to fly the family to Thailand to shoot a documentary with them. The family agreed to do this. This is how the Taihuttus have become digital nomads who travel by earning on the Internet.
Sponsors began to support the family's travels. For instance, in the U.S., a company provided them with a travel van, which they drove all over California. Another sponsor sent them on a cruise to Venice. Moreover, the family often appeared as guests at crypto conferences.
Сhallenges of living on cryptocurrency
When the Taihuttus decided to live and travel using just bitcoin, they began to face problems. Because not all places accept crypto as a means of payment, the family has to use fiat money.
In order to cash out coins, the family uses P2P-exchangers or Bitcoin ATMs. The young ones in the family get pocket money in bitcoins.
However, even here there are some difficulties. As an example, when crossing the Turkish border, they failed to buy a visa. So they transferred BTC to a friend who sent them the money with a Turkish prepaid credit card. These days, the Taihuttus mostly use crypto-debit cards, such as Wirex, Bitsa, or Crypto.com.
Conclusion
At the moment, the family is still journeying around the world. The experiment conducted by the family can be called a success. They got everything they were looking for: freedom, opportunity for investment, and the chance to spend more time with each other. Over all this time, Didi's investments in bitcoin have increased 10-40 times. In fact, this is the equivalent of at least several million dollars. Yet it's not much compared to the life experiences the family has gained.
But in order to start earning cryptocurrency today, we suggest using RevenueBOT, a platform for creating trading bots. You can use RevenueBOT to create a stable passive income. The platform allows you to create trading bots on the largest and top cryptocurrency exchanges such as: Binance, Bittrex, FTX, OKX and others. The creation of the bot is completely free, the commission fee will be charged by the platform only after the first profit has been made. It should be noted right away that the bot does not have access to the user's funds on the exchange, and that it trades using API-keys, which means that the exchange account will remain inaccessible. RevenueBot has over 40,000 customers, who make money thanks to our trading bots.
The following is, however, not an exhaustive list of the advantages offered by our platform:
The commission fee is charged only after the user has made a profit; 

The bot settings open up a variety of ways to make a profit;

RevenueBot has a marketplace where customers can buy a ready-made bot so they don't have to create their own, or they can also sell their own bot if its configuration has proven to be effective. Furthermore, users can acquire in the marketplace the services of a mentor (an experienced user of the platform), who is ready to answer questions from beginners. Over time, you can become a mentor yourself and earn an extra income from it. 

Regular updates of the platform's features, which optimize the trading process. 

The RevenueBot referral program allows you to earn money without having to trade. Refer new clients to the platform and you will get up to 30% of the platform's commission on all profitable transactions conducted by the new user attracted by you every month (but no more than 15 USD).
As you can see, the platform has quite a lot of advantages to offer, all you have to do is start trading. There is no need to list them all when you can check everything yourself through RevenueBot's official website. Have a good trade!