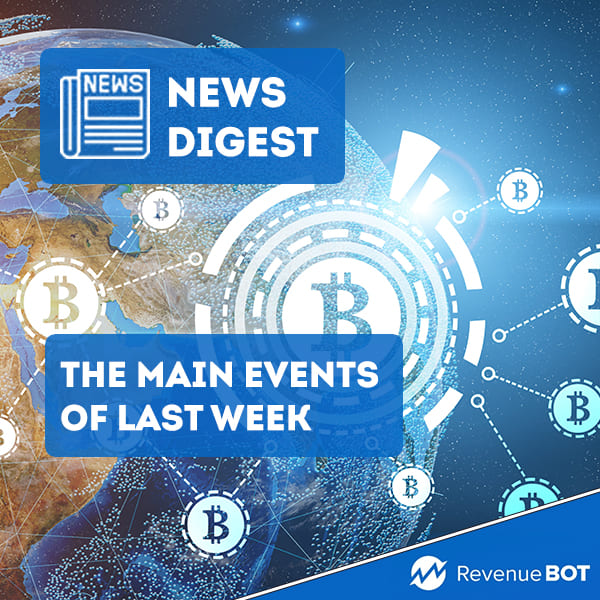 Friday, April 15th. As the week comes to an end, we can focus on the highlights of the crypto industry over the past few days.
Celsius Network CEO predicts bitcoin to skyrocket above $100,000 in 2022
Alex Mashinsky, CEO of Celsius Network, said bitcoin and Etherium will renew historic highs in 2022 as a result of capital flight from the stock market to crypto, whereby the digital assets will surpass $100,000 in value.
According to the Mashinsky, Bitcoin is now acting as a protective asset, causing it to reallocate savings from equities to digital gold.
"Since the beginning year the stock market is falling, but bitcoin has actually recovered most of the losses. We see a divergence between cryptocurrencies and the traditional market. This suggests that bitcoin is becoming a 'safe haven'. It's time for everyone to go their own way," — Mashinsky states.
In a crisis, cryptocurrencies "should show themselves well," the CEO of Celsius Network is convinced. He expects the flow of funds from the traditional market to digital assets.
Nexo unveils a Mastercard-powered crypto card 
The Nexo crypto lending platform has announced the release of the Nexo Card, based on Mastercard payment system, targeting the European market. The card will be issued by DiPocket.
The fiat crypto line of credit card requires no minimum repayments, or maintenance fees Users will be able to connect the Nexo Card to Apple Pay and Google Pay, as well as receive cashback in BTC or native NEXO tokens.
The platform allowed users to withdraw funds from an ATM up to 10 times per month with a limit of up to 10,000 euros. There are no commission fees for exchanges of up to 20,000 euros per month.
Raj Damodaran, Mastercard's executive vice president of digital assets, blockchain technology and partnerships, said crypto is "revolutionizing the financial landscape." To his mind, Nexo offers customers a "one-of-a-kind" way to use cryptocurrency assets.
In February 2022, FTX crypto exchange announced the issuance of a Visa debit card and opened a waiting list. Similar statements were made by Robinhood, an online broker, and Ledger, a manufacturer of hardware wallets.
Ex-Meta staffer warns of threat to privacy in the metaverse
Ex-Meta staffer alerted to privacy threat in the metaverse.
Back in October 2021, a former product manager reported on Meta's desire to increase audience engagement through specific algorithm tweaks. Notably, the platform spread misinformation, incited hatred and ethnic violence.
Haugen did not rule out that a similar policy could be adapted in the metaverse.
It is also pointed out that in addition to the 3D headset, installing sensors and microphones in homes, offices and possibly in public places would be required for the metaverse to operate fully.
This is vital for collecting huge amounts of data when creating avatars.
Should Zuckerberg's vision of a metaverse realize, "we will wear gloves equipped with sensors that track all body movements."
The Electronic Frontier Foundation is troubled that real-time collection of personal data in this fashion will make current government surveillance a "kids' stuff."
To alleviate such concerns, Meta has allocated $50 million to study complex issues of privacy, security and responsible design.
For Haugen, these steps look unconvincing. The whistleblower is persuaded that Meta will also do its best to form a detailed picture of users, while neglecting privacy issues.
Axie Infinity developers launch a bounty program to find exploits
Sky Mavis, the company behind blockchain game Axie Infinity, has launched a bounty program to find ecosystem security vulnerabilities after a hack worth more than $600 million.
The reward for finding bugs in blockchain and smart contracts will range from $1,000 to $1 million, depending on the severity.
The company will pay between $50 and $15,000 for vulnerabilities in website interfaces and applications. The reward depends on the threat level.
Sky Mavis claimed that "extraordinary" bug reports would get an extra bonus.
All payments under the program will be made by the Axie Infinity team in AXS tokens. A six-month vesting period is set for the maximum amounts.
By the end of March it became known that the   Roninб game's sidechain, had been hacked. The hacker withdrew 173,600 ETH and 25.5 million USDC worth over $600 million.
Sky Mavis has pledged to compensate users for their losses. In early April, the company raised $150 million from a group of investors led by Binance.