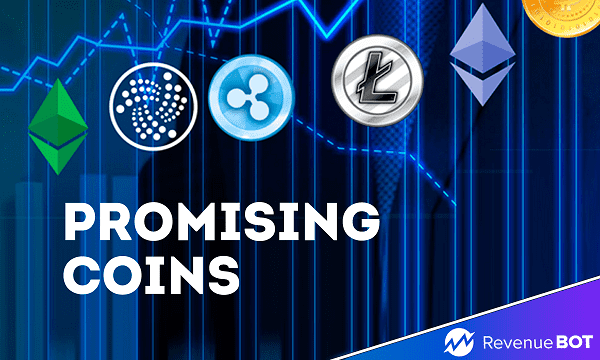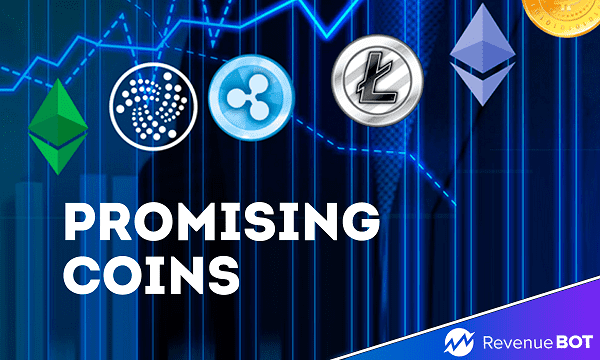 Numerous cryptocurrencies and tokens appear every day. Some of them are of a practical nature, which means they perform some sort of function. Others, on the contrary, have a purely entertainment purpose and may be in demand only due to the strong buzz around the project. RevenueBot has highlighted a few coins to watch out for. 
Icon (ICX)
Icon is one of the projects aimed at combining activities between all financial entities, through a unique blockchain.
This blockchain allows numerous institutions such as government agencies, hospitals, financial institutions, universities, large enterprises, and so forth, to interact in a very straightforward way. Interaction between those entities will take place without extra networks, thus avoiding unnecessary transaction fees.
Icon's global goal is to leverage its native ICX token as means of payment for services and products among organizations within the Icon Network. Basically, ICX is the internal currency of the Icon.
Icon's founder and chief developer is KJ Eee. He is a committed professional with extensive experience in the engineering/computer development industry. He currently works at Posteck University in Korea.
Qtum (QTUM) 
QTUM is a token created for the business environment. It is comprising the blockchain capabilities of Bitcoin and the Ethereum Virtual Machine (EVM), thus enabling the development of blockchain-based smart contracts. Qtum can be defined as a robust, powerful modular toolbox that facilitates the creation of smart contracts.
The currency is listed in Singapore. Therefore, rate fluctuations due to any news would not be devastating. The development team is China-based, with some members coming from Europe.
If you happen to be an investor, you should know some important facts about the founders of the project. First, the foundation has no commercial goals and has quite strong values. Second, the chief developer is Patrick Dai, a well-known expert in the crypto industry. In addition, the team consists of 17 professionals, each with relevant experience. Ultimately, it is worth noting that the company was established by a board of directors and decision makers, which shows that the project is being taken seriously.
Qtum states that their goal is to improve blockchain technology, not to generate profit. Qtum devs got investors, but they still get some income from participating in the marketplace.
QTUM project launch was possible thanks to influential investors in the field of cryptocurrencies. They are Anthony Di Iorio, Staru Xu, Xiaolai Li and Bo Shen, who collectively invested more than $1 million in the forward-thinking startup.
Quark (QRK)
Quark is both a payment system and a cryptocurrency. The developers sought to demonstrate that money has the ability to exist separately from government control. Unlike many other cryptocurrencies, Quarkcoin has the slogan "Super secure".
The Quark founders, who made an ICO in summer 2013, prove their slogan by the way the system encrypts transactions. No other digital system protects transactions as tightly as Quark does. Each transaction here is encrypted nine times by six different algorithms.
More than 250 million tokens were distributed in less than six months, with most of those tokens shared by users in the first two months. Thanks to intensive advertising via the Internet and the media, the developers of QRK managed to raise the market cap of the coin from almost zero to 20 million dollars.
Conclusion
When investing in new coins, you keep an open mind on all the risks, because the chances of a coin remaining at the same price brackets or depreciating are sky-high.  
This material is not a piece of financial advice and is for informational purposes only.
If you don't want to count on luck, RevenueBot offers an automated trading interface. You can trade on the leading crypto exchanges, including: Binance, Bittrex, FTX, OKX and others. RevenueBot allows traders to create trading bots that provide stable passive income. Among the main advantages of the platform we can highlight the following:
Fees for the service are charged only after the first profit, no prepayment required;

RevenueBot's native marketplace is a great way to buy a ready-made bot as well as to sell a lucrative configuration; 

The RevenueBot referral program enables you to earn without having to do any trading by yourself;

RevenueBot uses a Dollar Cost Averaging (DCA) strategy, through which you can successfully trade and make profits over the long run;

Automatic switching of trading pairs makes it possible to benefit from trading at any time. The bot itself will switch to another trading pair if the main one will not be able to do the earning. 
You can learn more about the features of the platform on the RevenueBot official website.